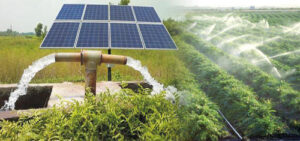 0.5 HP to 10 HP AC Solar pumping systems.
Avirat Solar water pumping system is a standalone system operating on power generated by Solar panels.
The power generated by solar panels is used for operating AC surface centrifugal Mono-block pump, Bore well Submersible Pump set, Open well Sub.
Pump set for lifting water from Bore, Open well or water reservoir for Agriculture minor irrigation, Drinking water applications, Drip Irrigation and Sprinkler irrigation.
The Solar Pump system requires a shadow-free area for installation of the Solar Panels for pump.
0.5 HP to 10 HP DC Solar pumping systems.
We can provide DC Solar pump systems for farms in remote area,forest or where no grid available.
Reasons to buy Solar Water Pump: